Customer references

Kjærulf Pedersen manufactures and develops sensors for measuring temperature, humidity, CO2 and O2. "Sherlock Web is great for a company like ours. It has been important that we have been able to customize the system to meet our "Here and now needs". It is easy to implement Sherlock's modules with multiple users, and last but not least, the Sherlock Teams's service level in unparralleled,  – even in those areas where there is a need for definite sparring regarding Quality Matters. Besides, the Sherlock Team is an important partner in the development of our entire quality strategy", Søren Saxosen, QA Manager.

The Dovista Group is a group of leading companies and brands for vertical windows and doors. More than 4000 employees manufacture and market the products in several countries in Scandinavia and Europe. "The Sherlock Web modules we use at DOVISTA fully meet our requirements for functionality. Especially the language layers of documents are important to us. European House of Quality always provides a good service when we need updates, adjustments or troubleshooting. The best recommendations are given from us", Martin Mikkelsen, Corporate R&D Quality Manager, DOVISTA A/S.

Kühn is a project house within injection molding of plastic components, and they take care of the whole process from idea and development to production and logistics. "Sherlock Web has helped us to produce and document world-class plastic components for the medical and technical industries", – Jesper Damm, CEO, Kühn Plast A/S.
Genan plants in several countries recycle tyres from passenger cars, vans, trucks, tractors and large earth-movers, they produce cryogenic powder, ultra-fine rubber powder and rubber pellets. "Sherlock Web meets our document management needs – not least regarding GDPR requirements. Moreover, the customer support we receive from European House of Quality is both quick and efficient", – Lisbeth V. Thybo, Marketing Coordinator / PA, Genan Holding A/S.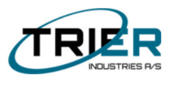 TRIER INDUSTRIES is a total supplier to aerospace, automotive and other industries of special machines, production equipment, internal transport, materials handling, associated PC or PLC control systems, tool making, machining, assembly and repair tasks. "We work with specialized industries such as the airline industry, where there is extra focus on control and safety. Sherlock Web helps us keep the necessary overview that ensures both the satisfaction of our customers and at the same time with the authorities", – Dustin Paul Wilden, Chief Commercial Officer, Trier Industries A/S.

JAI-O carry out surface treatment of iron, steel, aluminum, magnesium, galvanized items and plastic products.  "Sherlock Web helps us comply with our own procedures as well as regulatory requirements in quality and environmental standards", – Birger Askjær Madsen, Quality- and Environmental Manager, JAI Overfladebehandling A/S.

Gardit is a part of CG Group and offers surface protection on site. "In an industry with increasing demands for managing quality, environment and occupational health and safety it is crucial to have control of the documentation. Sherlock Web is now our Management System and Sherlock Web Mobile has become an integral part of everyday life for our mobile employees who can find instructions, and now also report events, incidents and errors in real time.
European House of Quality has helped us safely through a Triple ISO Certification in record time, and has throughout the process been a professional sparring partner for our Project Department, – Per Eriksen, Project Manager, COO, Gardit A/S.