Sherlock Web Projects
This module makes it easy to create projects based on project templates designed for e.g. APQP / PPAP to IATF 16949 or to APQP4WIND etc.
For example, if a phase. contains a task that requires completion of a particular excel sheet, this will automatically be included in the current task.
The project documentation can then easily be exported to PDF, and you can export attachments in a file folder so that the material can be forwarded to customers or other stakeholders.
The module contains GANTT, which also shows baseline, so it is easy to get an overview of whether development phases and related tasks are performed on scheduled time.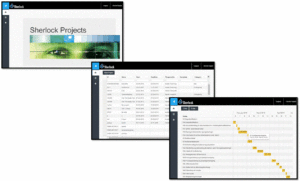 There are many search options in Sherlock Web Projects that give you a good overview of all your projects. You can view the projects via the following menus:
By Project Number
Projects by Responsible Person
Open Phases by Responsible person
Open tasks by Responsible person
Ongoing Phases
Projects by status such as "Approved", "Declined" or similar
By category such as "Category foods", "Category windturbines", "Category furniture" etc.
By cost showing budget and consumption plus possible deviation +/- from budget
By hour showing budget and consumption plus possible deviation +/- from budget