Sherlock Web Mobile
This module is designed for smartphones and works both online and offline.
Surveys in the fields of quality, environment and work environment are carried out and documented easily and smoothly via Sherlock Web Mobile.
The Quality Manager, the Environment Manager, the Occupational Health and Safety Manager etc. can push inspection out to the employees who must physically carry out the inspection. The result of the inspection is automatically sent to an authorized person, who can create various activities and nonconformance reports as needed.
The employee who is to perform the inspection receives a message by Email and sees the number of inspections waiting on his/her mobile phone.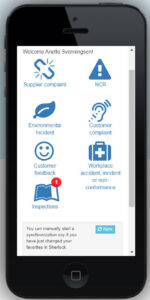 By clicking on the colored icons, the employee documents whether observations show that everything is okay or not, and perhaps writes a text or speaks what he / she sees – after which Sherlock Web Mobile converts speech into text. Photos and video can also be attached as documentation.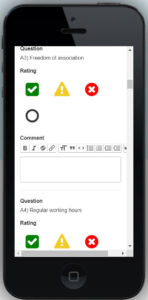 By using this module your personnel is also able to create up until 10 different records, for example:
Nonconformance report
Customer complaint
Complaint to vendor
Workplace incident
Environmental incident
Ideas for improvement
Inquiries from interested parties
etc.
You can take a video or a photo and the geo-location is automatically logged.
Records are automatically transferred to Sherlock Web Log and an Email notification is sent to an authorized person in your company. This person can choose to process the record himself or appoint another person.
If there is no internet connection the record will be saved and sent to Sherlock Web Log whenever the internet connection is re-established.
The feature ""Favorites" ensures that your personnel can access their favorite documents (SOPs, work instructions, videos, SDS etc.) anywhere, even offline.
The feature "Equipment" ensures that your personnel can document that the equipment they are using actually was calibrated, maintained or statutory inspected in due time.
Sherlock Web Mobile changes speech to text if you use the microphone on your mobile phone.