Sherlock Web Log
Sherlock Web Log contains pre-printed forms that make it easy to create the documentation required by for example ISO 9001, ISO 14001, EMAS, ISO 45001, ISO 17025, ISO 15189, ISO 13485, BRC, ISO 22000, EN 9100, EN 1090 and others. Pre-printed forms are available for risk / opportunity analysis such as the ISO 9001, ISO 14001 and ISO 45001 standards require, Workplace incidents, Workplace assessments, Audit, Internally detected errors, Action plans, Stakeholder inquiries, Customer satisfaction analysis, Customer feedback, Employee ideas for improvement, Customer complaints, 8D reports, Complaints to suppliers, Evaluation and categorization of suppliers, Listing and thus monitoring laws / regulatory announcements / Working Environment Authorities guidelines / Standards / Norms, Dialogue with suppliers e.g. relating to. environmental impacts, Environmental incidents, Environmental impact assessment, Meeting agendas and minutes of meetings, Process FMEA, CSR statements / Environmental statements, etc.. Besides, you can also create your own forms if you wish to complete them electronically in Sherlock Web Log.
It is also very popular to create annual wheels which show when the overall activities should take place.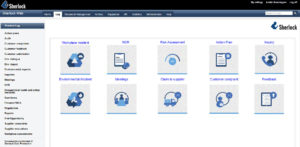 You can control which of the above mentioned forms and the correlating menus in the left side of the screen should be visible for whom. You may for example choose that employees in manufacturing areas only can see the clickable icons and not the left menu bar. This staff category has the need of being able to create e.g. an occupational health and safety incident quick and convenient but they do not necessarily process the incident.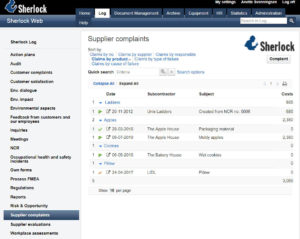 The staff processing the incidents and the corrective actions will typically have access to the left menus which show the completed forms.
If you do not work with, for example, Environmental Management yet, you can hide the menus. And when you're ready to get started with Environmental Management, you can easily make the menus visible again.
Once you have completed a form, it can be displayed with different angles. You may for example sort complaints to suppliers by supplier to see if there have been other complaints to the same vendor, what types of errors and mistakes have happened, what the error cost your company and whether you received a replacement or a credit note.
You may journalize mail correspondence to / from the supplier regarding the complaint from outlook into the complaint in question. Mail journalizing from outlook is possible on relevant forms in Sherlock Web Log.
We have ensured that a thorough causal analysis of all kinds of deviations can be carried out. For example you can use Ishikawa Diagram and 5 x why to find root cause.

Certain documents may contain sensitive personal information, and therefore you can restrict who can open and read the document. An authorized employee can see the menu in Sherlock Web Log with the GDPR related documents.

It is also possible to journalize a document from Sherlock Web Log containing sensitive personal information to the current employee's record in Sherlock Web Human Resource. If the person in question asks for access to his / her personal information recorded in Sherlock Web Log and in Sherlock Web Human Resource you simply open his / her employee record.
You can also open Sherlock Web Statistics and view the documents from Sherlock Web Log graphically, thereby gaining even more value from the documents. Here you can also view data as Pareto analysis and thereby "The vital few".