Sherlock Web Human Resource and Sherlock Web Job Application
Sherlock Web Human Resource
Sherlock Web is compliant with the EU General Data Protection Regulation (GDPR) of 27 April 2016 which purpose is to protect and empower all EU citizens data privacy and to reshape the way organizations across the region approach data privacy.
Sherlock Web Human Resource contains employee records and scheduled training at work and scheduled external courses. Agents make sure to advise via outlook if any kind of training or a course is to be renewed.
Effects e.g. credit cards, mobile phone, computer, keys etc. You may also enter other personnel-related registrations such as employee appraisals, employment contracts, NDA, signatures, consent statements, etc. in Sherlock Web HR and mails from outlook can be journalized into employee's records.
Views enable structured search, e.g. Who controls which machines / processes at which level, and a competency matrix, which can also be exported to excel, provides an overall graphical overview of the competencies that the company has.
Overview of courses and participants' rating of the quality of the course makes it easy to assess whether the same provider will continue to be used.
The dataprotection officer (and others authorized to do so) can see in Sherlock Web HR what sensitive personal information has been created about the individual employee in the Sherlock Web HR module and in the Sherlock Web Log module.
Personal data can be viewed graphically in the Sherlock Web Statistics module.
Sherlock Web HR ensures efficiently that only authorized persons can open and read data about the individual employee in the module.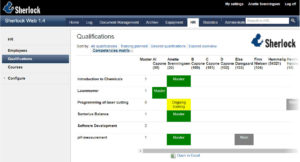 Sherlock Web Job Application
It is important that you ensure proper and legal handling of job applications.
You can easily journalize a Job Application with any attachments into Sherlock Web Job Application from outlook.
The overview of applications gives an overview of, for example, which departments have which applications for further assessment and when applications have been received and at which date you must delete the applications.

Deletion can occur automatically, for example, after 6 months, or manually. If you choose manually, Sherlock Web Job Application sends an email to a predefined employee/employee group, which then arranges for manual deletion of the application including any supporting documents.
It is possible to search the list in order to view which applications are relevant to the Purchasing Department.
Sherlock Web Job Application effectively ensures that only authorized persons can open and read data about each applicant in the module.