Sherlock Web Equipment
In this module you will enter information about monitoring and measuring equipment, machines, tools etc.. Hereafter, it's easy to get an overview of what equipment the company has and when this equipment must be exposed to:
Calibration
Maintenance
Statutory inspection
The records contains basic information about the equipment, and photo of the equipment can be inserted, video manuals can be inserted, service reports and calibration certificates can be attached, or inserted as images, and you can journalize emails from outlook on a given record, a job card or on a nonconformance report. This gives a complete history of the equipment, during its entire life span.

If the device is no longer in use, the status changes to, for example. "Discarded due to xx", "Lost" etc. Frequently, documentation is required regarding equipment for customer requirements and / or requirements in ISO standards, even if the device is no longer in use – and therefore there is a menu that collects this equipment and associated documentation.
Planning for maintenance of equipment is facilitated by a calendar showing, for example, This month's calibrations, maintenance and statutory inspection.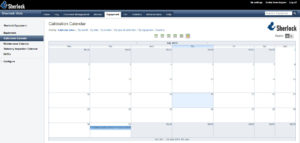 The person responsible for eg. statutory inspection of ladders can bring an IPad to the manufacturing area, and then the inspector can see which ladder should be at which location via the menu in Sherlock Web Equipment "Equipment by location". The inspector checks the ladders according to the inspection instruction given on the equipment record in question, and the inspector immediately acknowledge for statutory inspection whereafter Sherlock Web Equipment stamps the date on the record and plans for the next check.
Put QR codes on machines and equipment, scan them with your tablet or mobile phone, and the equipments record appears. This enables you to read about how to maintain, calibrate or inspect the equipment and you can sign off for "job  done".
Agents advise the person responsible for calibration, maintenance or statutory inspection that "now is the time for e.g. calibration / now there are x days until calibration must take place / now the date of calibration – maintenance – statutory inspection is exceeded ". The responsible persons dashboard shows which equipment to take care of when.
In Sherlock Web Equipment, a red flag appears for equipment that is not calibrated or maintained or statutory inspected due to scheduled time.
Job cards can be created, for example. repair request, description of how to move machines from room 1 to room 2 etc., and it is easy to get an overview of who should do what job when and when the work is estimated to be completed – and when the work was actually completed.
If a device fails, a nonconformance report may be created. The person who processes the nonconformance report can obtain comments regarding reasons for errors from relevant employees.
The overviews show via icons whether the effect of corrective actions has been evaluated.

In Sherlock Web Statistics you can view the nonconformance reports graphically, and you can get a graphical overview of what equipment and quantity of each type of equipment the company has.